0 Comments
Monday, June 10, 2013
| by
admin
Historically, books and music have readily exchanged stylistic inventions – the latter glaringly stealing from the former for narrative, conceptual and aesthetic direction in pop since the 1960s. Perhaps on account of this, and considering its performative and ephemeral dimensions and base populist overtones, music published for the mass market has been thought of as less serious than literature, and more mutable: to the chagrin of cultural studies departments everywhere.
Now, however, in the words of Elizabeth Weiss, of Allen & Unwin, the music industry provides the 'salutary example' of how publishers must address new public demand for digital books, journals and newspapers created by the arrival of e-readers such as the Kindle, Ipad and 'smart phones'; just as music was forced to adapt to the advent of MP3 technology and players many years ago. As record companies fretted and experimented by turns, so now local books publishers contemplate a new life in altered states.
If The Digital Revolution: Publishing in the Twenty-First Century symposium, organised by the Australia Council for the Arts and Australian Publishers Association (the State Library of Victoria, 15 February, to be repeated in Sydney on the 17th) started as a warning of the monumental digital wave making its way from overseas to local publishing, by its end the meeting of one hundred organisations was awed less by fear than by the opportunities presented by e-books, e-readers, DRM (Digital Rights Management) and metadata, 'dispersed digital marketing' strategies and other futuristic terminology and concepts.
Senator Kim Carr, Minister for Innovation, Industry, Science and Research opened proceedings with a reminder that there is 'no point circling the wagons' in regards to digital publishing, given the prediction that by 2020 thirty per cent of Australia's book market will be electronic. Senator Carr cited the lesson of the seventeenth-century's 'penmen', those Luddite hand-copyists of the first moveable type, to enforce his plain message that no one in publishing can expect to 'build a future on nostalgia'.
In a notable presentation, Stephen Page, CEO of Faber and Faber (UK), dispelled perhaps the gravest fear surrounding the digital publishing conversation: that e-books will entirely replace print books. As with the music industry, he said, digital versions complement print versions and actually help on-sell them. Digitisation enlivens the reading community by fostering dialogue about books online and at events promoted online, and also triggers new-found fetishes for deluxe, hard-cover, limited run editions. He instanced the success of the Faber Finds, print-on-demand editions of backlist titles. Almost 1000 of these will soon be available.
Michael Tamblyn, of Kobo Inc. (Canada), went on to banish further scepticism regarding e-books: namely that it is only the very young who are interested in them, and that digital editions are too readily available to build a business on. Kobo Inc.'s extensive research into the American market found that the average e-book reader is between thirty-five and fifty-five years old, and that she (fifty-five percent) or he (forty-five per cent) values speedy access to titles above the cost-savings involved. Tamblyn enforced his point with an astonishing graph indicating that most e-book sales in the United States occur late at night when regular bookstores are closed.
All this is further encouragement, if we needed it, to develop an electronic edition of ABR. How much it will cost, where it will be available and in which forms will be moot until the transition described by Richard Charkin, Executive Director of Bloomsbury Publishing (UK), as a 'ten-person chess game, in which the rules are unknown and players wear sacks on their heads' becomes clearer. Certain it is though that e-ABR is on the way – to complement the print edition.
0 Comments
Tuesday, June 4, 2013
| by
admin
Fated by Sarah Alderson
Fated by Sarah Alderson (review copy) - What happens when you discover you aren't who you thought you were? And that the person you love is the person who will betray you? If your fate is already determined, can you fight it?
When Evie Tremain discovers that she's the last in a long line of Demon slayers and that she's being hunted by an elite band of assassins –Shapeshifters, Vampires and Mixen demons amongst them – she knows she can't run. They'll find her wherever she goes. Instead she must learn to stand and fight.
But when the half-human, half-Shadow Warrior Lucas Gray - is sent to spy on Evie and then ordered to kill her before she can fulfil a dangerous prophecy, their fates become inextricably linked. The war that has raged for one thousand years between humans and demons is about to reach a devastating and inevitable conclusion. Either one or both of them will die before this war ends.
If your life becomes bound to another's, what will it take to sever it? From Amazon UK
After finishing Hunting Lila, I dived right into Fated, knowing I needed more of Alderson's brilliant writing, knowing Fated would be just as amazing! I wasn't disappointed!
Fated is dual-narrative novel, so we get to see the points of view of both Evie, as she finds out who she really is and starts to learn, and Lucas, half-Shadow Warrior, as he falls for the girl he's sworn to kill. Evie, who believed she was a normal girl, suddenly finds out while grief-stricken that she is a Hunter, those who defend the earth from demons. Not only that, but she is pivotal to a prophecy, and has zero choice in the matter. It's fight or die. As a member of the Brotherhood, Lucas' purpose in life is to rid the world of Hunters, those who are defending our world from the Unhumans - modern, PC term for demons. However, Lucas hasn't signed up because he believes in the cause, his reasons for wanting to kill Hunters are more personal. But then he lays his eyes on Evie, and things shift.
With the dual-narrative, Fated was kind of like Buffy the Vampire Slayer meets Hellboy, with Evie's training and learning being Buffy-esque towards the beginning, and the group of Unhumans that make up the Brotherhood being like the group in Hellboy. That may sound surprising - why would I compare those on Hellboy, who were good, with a group of Unhuman assassins? Well, with Lucas' point of view, we get to know the Unhuman characters. Despite their Unhuman-ness, they're just teenagers really; flirting, arguing, taking the mick out of each other. I found some of them really interesting and intriguing characters, despite being "bad", and would have liked to have seen a little more of them, see more of their personalities outside of fighting, but I guess it's not their story.
The romance in Fated is a slow burner; Lucas and Evie don't actually spend much time together, chatting, getting to know each other. It's not insta-love though. It's physical attraction, that they bothry to ignore for their own reasons - how can Lucas be attracted to the girl he has to kill? How can Ev even think about guys when she has to go around killing Unhumans? They both really fight it... they just can't. Have you seen the title of this book? They really can't fight it. And once they stop, woah! Alderson sure knows how to write a steamy kiss! Seriously hot - and they're only kissing! Not a bed in sight! Alderson really is the Queen of Sexual Tension!
She's also the Queen of Twists! The twist that came at the end of this novel was shocking! It pretty much turned everything Evie knew, what she had learned, upside down! I was just so frustrated and mad for her! How that girl is able to trust anyone by the end of the book is beyond me! But it makes for a very interesting ending, and I have no idea where the sequel could possibly go next! I loved it! My mind has been made up. Another author to add to my favourites list!
On a side note, I need to add that Sarah Alderson is British. Yes, you read that right, British! But she writes in such a way that her books feel like they're writen by US authors - not just because they're set there, but because they fit in with the other US YA urban fantasies out there, you wouldn't know the difference. This surprises me and makes me quite proud! Would be interesting to see if Alderson writes a novel set entirely in the UK - I just can't imagine anything fantastical happening around here.
Brilliant novel, and I cannot wait to read whatever Alderson releases next! You must read this book!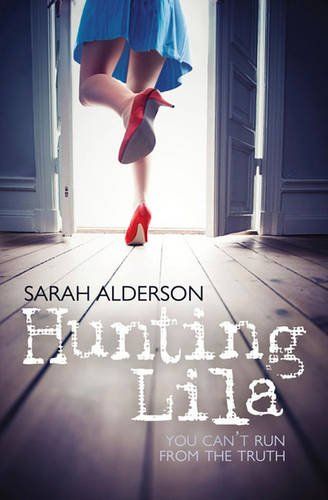 Hunting Lila by Sarah Alderson
Hunting Lila by Sarah Alderson (review copy) - 17-year-old Lila has two secrets she's prepared to take to the grave. The first is that she can move things just by looking at them. The second is that she's been in love with her brother's best friend, Alex, since forever. After a mugging exposes her unique ability, Lila decides to run to the only people she can trust - her brother and Alex. They live in Southern California where they work for a secret organisation called The Unit, and Lila discovers that the two of them are hunting down the men who murdered her mother five years before. And that they've found them. In a world where nothing and no one is quite as they seem, Lila quickly realises that she is not alone - there are others out there just like her - people with special powers -and her mother's killer is one of them... From Amazon UK
Until very recently, I had heard very little about Hunting Lila. I may possibly have been living under a rock, because at publishing events, people wouldtalk about how good it is, but I'd not seen much talk of it online. I didn't even have a copy on my TBR pile, I'd heard so little about it. But recently I've been stalking the blogs run by Brodie and Lisa, Eleusinian Mysteries and Read Me Bookmark Me Love Me, who have featured several posts about Sarah Alderson's novels in their joint February Valentine's Event. The deleted scenes and character Q&As - as well as the ladies' enthusiam for Alderson's novels - covinced me I had to read them, so I picked up Hunting Lila. It was fantastic! This book is just so awesome, I'm not really sure where to start, so much to talk about!
With the first half of the book, I was surprised with how contemporary it seemed, despite Lila's ability. She keeps her strange ability a secret, and makes up excuses as to why she's suddenly visiting her brother Jack, and Jack and Alex are quite secretive about what it is The Unit does. Although Lila wants to find out because of strange things that have been happening - why on earth are there SUVs guarding the house? - the fantasy element is kept underwraps for a good while, so we get to the characters as normal people. Which is just awesome, because hello, Alex! Lila has been in love wih him for pretty much her whole life, and it's not hard to see why - the boy is hot! He's protective, strong, sweet, and just absolutely lovely, with the physicique that comes with being in the military! Alderson is just fantastic at writing hot guys, because the pages just sizzle whenever Lila is with him, even though he's completely oblivious. The effect he has on Lila - and us readers - i just... wow. I want me some Alex!
Then the fantasy element hits with full force. Jack and Alex are trying to catch Lila and Jack's mother's murderer, Demos, and oooh, he's a bad man. And he has an ability too. One, it seems, that make him unbeatable. Even before we see him, we're scared of him, simply because of the way everyone who knows about him talks about him. He is Dangerous - yes, with a capital D. Throughout reading Hunting Lila, I was constantly reminded of the American TV show, Heroes.There are bad people with abilities, and there is an organisation set up to stop them. Hunting Lila is just as fast paced and just as exciting as Heroes, if not more so. Even though they have different abilities, Demos is just as freaky as Sylar.
But just when you're thinking "oh my god, can things get any worse?" BAM! Alderson chucks in a twist! I did not see it coming at all! The excitement level is hitched up a notch, and you're worrying for completely different reasons! Your emotions are turned up on their head, and you don't know what to feel or who to trust, and you're scared for the one's Lila loves, because oh dear god, things get dangerous! And then BAM! Another twist! The biggest twist ever! You're thrown back against your seat with the wind knocked out of you! And then a cliffhanger that leaves you dying for more! And yes, I am using far too many exclaimation makrs, but that's because I am just so in love with this book!
If you haven't read this book yet, you seriously need to go out and get it right now, because Hunting Lila goes above and beyond amazing! I cannot recommend this book enough!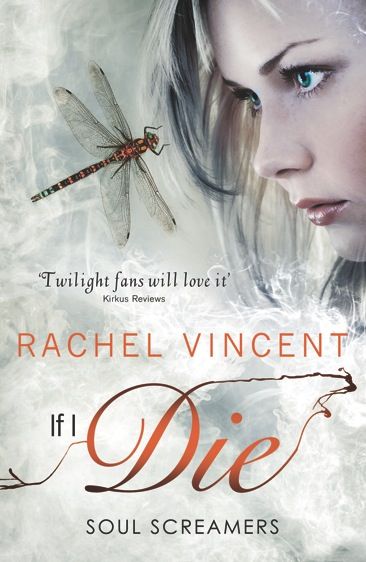 If I Die by Rachel Vincent
If I Die by Rachel Vincent (review copy) - WARNING! I cannot review this book without spoiling the others in the series. Read no further if you're planning on reading this series and don't want it spoiled for you.
NO ONE WANTS TO BE THIS TEACHER'S PET . . .
Everyone else is talking about Eastlake High's gorgeous new math teacher, Mr. Beck, but Kaylee Cavanaugh has bigger things on her mind. Kaylee's a banshee—her scream is a portent of death.
But the next scream might hit too close to home. Kaylee's borrowed lifeline has almost run out.
Yeah—it's a shock to her, too. So to distract herself from her own problems, Kaylee is determined to defend her school against the latest supernatural threat. That hot new teacher is really an incubus, who feeds from the desire of unsuspecting students. The only girls immune to his lure are Kaylee and Sabine, her boyfriend's delinquent ex-girlfriend. Now the unlikely allies have to get rid of Mr. Beck…before he discovers they aren't quite human either.
But Kaylee's running out of time, and those who love her will do anything to save her life.
Just to warn you, this review is likely to be quite long, and you may not survive the tsunami of love that will spill out from it.
I'm going to start this review by saying something outrageous. Who nees family or friends, hell, who needs food when you can lock yourself in a room and immerse yourself in the wonders that are the Soul Screamers series? I'm exaggerating, of course, but that should give you some idea as to how much I really mean my love knows no bounds when it comes to this series. No review I could ever write would ever come close to expressing how much I adore this series, and specifically this book (but I'm going to try!). If I Die surpasses My Soul to Steal, and I thought that was brilliant! I'm going to say something now I never, ever thought I would say. Are you ready? Ok, here goes. I love this series more than I love the Shifters series. I know! The Shifters series was absolutely phenomenal, and I didn't think Vincent could ever write anything that came close to how amazing it is, because how can you beat perfection?! Guess what? The Soul Screamers series is better!
Should I get on with the specifics now? Yes? Ok...
That's going to be hard actually, because there's so much that happens in this book that is major important, and it leaves very little I can talk about. I would say this is probably the most important book in respects to Kaylee's life so far. It's a turning point in the biggest way possible. Everything's changed. Everything. And it's brilliant!
As we learned much earlier in the series, Kaylee was supposed to die when she was three. However, her mother took her place, and Kaylee has been living on borrowed-time since then; she's been living the time her mother would have had had she not died, and now that line will be coming to an end in a few days. And there's absolutely nothing anyone can do to save her. As if that's not enough to deal with - having to face the fact she will die, trying to make sure everyone will be ok when she's gone, and decide what she wants to do with the little time she has left - she finds out there is an Incubus posing as the school's new Maths teacher, and has the sweet, young things he teaches in his sights - specifically Emma, Kaylee's best friend. Kaylee can't die, she doesn't have time to die! There is a freaking incubus attempting to impregnate half the student body! So, as you can imagine, Kaylee's fit to burst with everything she has to deal with and how very little time she has to deal in. It's enough to drive anyone mad, and perhaps make a few mistakes...
That's what's just so fantastic about Vincent; she doesn't shy away from putting her characters of her readers through hell. In all kinds of ways. And not one person, not one, comes out the other side unscathed, be it mentally or physically. If I Die is absolutely hellish on it's characters, it's terrifying and unbelievably sad, and yet it's also so, so beautiful. There were tears in my eyes as I closed the book because of more emotions than I could possibly name. But mostly, I was in complete and utter awe.
I have to mention Tod. My love for this boy has grown and grown with each book, and I'm sure it will continue to do so. He's just the most amazing, brave and selfless guy - and one of the funniest. He is just so completely wonderful, and I want one of my own. Sabine is still very much Sabine, and so I'm still loving her. That girl has serious spunk, and despite the way she can treat Kaylee sometimes, I love her for it. I am so looking forward to more of her. And I'm so glad I finally got an answer to a question I've been wondering about ever since reading the prequel novella, My Soul To Lose. Just shows how brilliantly talented Vincent is, If I Die is the fifth book in! She has had this book in head in some form since the very beginning. It blows me away.
I am so happy there has been a change when it comes to the titles! If I Die makes perfect sense, and I'll remember which book it is, but I'm always having to look up the others when I want to talk about them, because I can never remember whether it's MSTTake, Save, Keep or Steal. So I'm liking the chnge! I also love the cover - I love all the UK covers for this series - but it doesn't link to the story whatsoever that I can see, I have no idea of the significance of the dragonfly. So for this book, I think the US cover says a lot more about the story, it really works.
This is not a book anyone can miss. You have to read this book. Pre-order this book now, right now, because you simply cannot not read this book. It's absolutely amazing! Rachel Vincent, you are beyond amazing, and I cannot thank you enough for the joy I get through readin your books. You're a gift to readers. Now I just need Mira Ink to publish the eBook novellas Reaper and Never to Sleep in the UK so I can read them, and I will be an extremely happy girl.
Lost Christmas by David Logan
Give him your hand Frank. Let him tell you what you've lost. Old lady's lost a bangle, he knows I've lost a dog, well you've lost something too. Let him tell you what.
Eleven-year old Goose is lost. It's Christmas, his parents are dead and now his dog Mutt has gone missing. Those round him aren't doing much better: his Uncle Frank's wife has walked out on him and his nan is losing her mind.
But then Anthony appears: a man who seems to know everything about those he touches by nothing at all about himself...
Who is he, how does he know so much, and can he help Goose?
So begins a dramatic journey through love, loss and the quest for home. From the blurb
I received Lost Christmas as a Christmas pressie from my Mum and Dad. I originally planned to keep it until December of this year, so I would be reading a Christmassy book around Christmas, but had to pick it up on my Mum's insistence. Why? Well, she wants to watch the film Lost Christmas which we recorded when it was on last month. She's not the type of person who can watch movies based on a book or movies where a book version has been writen (as is the case with Lost Christmas) without reading the book first, so I let her borrow it. Once she finished, she said I HAD to read the book before we watched the movie because it was brilliant, and as she wanted to watch the movie soon, I had to read the book, like, yesterday. Obviously, my Mum didn't say those exact words, but you get the idea. She was right, the book is brilliant.
I picked Lost Christmas up thinking it was a children's book, but I would say it's more a pre-teen/early teen novel, with cross over appeal. The loss of Goose's parents has had a huge, huge impact on Goose's life. He's gone a bit off the rails because he hasn't dealt with things properly, and his Nan, who is his guardian now, has Alzheimer's that's steadily getting worse. His life doesn't look good. And the lives of various other people in the book have lives that are less than perfect. Lost Christmas reminds of movies like Love, Actually, as there are a lot of characters with their own individual stories, but they're all linked. It was quite a novelty to see something like this in a book; instead of just one or maybe two narrators like I'm used to, there were a whole number of them - though some had only very small parts, it really doesn't get confusing at all. The main narrator is Goose and it's his story that is the main focus. There's such a wealth of characters, but each of them have experienced loss in some form.
Which leads on to my next point. Lost Christmas is sad. There are some very light, amusing moments, but there are a number of moments that are just incredibly sad. There's one excruciating moment where I came so close to tears, because it's one of those rare moments where you know what's going to happen - you actually know, it's not a theory or a prediction, you know - and it's nothing good, and reading it is just awful! It's drawn out over several pages, and I just wanted to put the book down. It's excruciating! Really, there are some terribly upsetting moments.
I was so surprised by the ending! All the way through I was trying to work out who Anthony was, I had various theories that were based on nothing but guesses. They were discarded and another thought up, and then brought back, but never guessed what his story was, or how he knew everything about everyone else. It's so clever! And the actual ending of the book was just so good! Oh, it was just lovely! I loved.
The cover for Lost Christmas is really beautiful, but other than the snow, I have absolutely no idea how it relates to the story. I have no clue about the tree, and it looks like the shortest figure is a girl, which makes no sense to me. I am at a lost. But it is gorgeous!
A really sweet but also sad novel that's just wonderful and brilliant and all things good! I highly recommend Lost Christmas, it's fantastic!
0 Comments
Monday, June 3, 2013
| by
admin
Embrace the Night by Karen Chance
WARNING! I cannot talk about this book without spoiling the first two. Do not read if you plan on reading Touch the Dark and Claimed by Shadow!
Cassie Palmer, now Pythia – cheif clairvoyant, has come into her full power. Having not been trained as a candidate for Pythia when she was growing up, she's struggling to understand here powers and work out how to use them. Working things out will have to wait however, as she needs to get hold of the Merlini Codex. The geis between her and Lord Mircea, a master vampire and member of the vampire senate, is getting stronger, and Mircea's life is at risk. Only in the Codex can she find the counter spell to the geis and free them both, with the help of the war mage Pritkin. With a group of runaway magical children who are dropped on to her plate, and the continual attempts on her life by the Silver Circle, things are complicated. But then she starts to mistrust Pritkin, and when a blast from his past shows up, the truth about him is revealed, and things start to get a lot worse.
I don't know how Karen Chance manages to do it, but this book is amazing! You may remember that I wasn't all that keen on the first book because of the way the world building was dealt with. There is no problem now! This book was just awesome! It's unbelievable how fast paced it is, and how everything links together even though there are so many things going on at once. I love it! Along with Cassie, you're not sure who to trust and who to mistrust, who wants to help and who is out for themselves. You're kept guessing the whole time!
You may also remember that I didn't like Pritkin in the first book. I absolutely bloody love him now! He has to be my favourite character; he's always angry and untrusting, but he's just so cool with his spells and weapons, and how you can rely on him to get you out of a scrap. If he's not my favourite, then possibly Billy Joe, Cassie's ghost sidekick, or Casanova, the vampire incubus, or incubus vampire (I always get that confused) who run's night club Dante's.
Cassie is amazing though. She goes through a rollercoaster of emotions through this novel as the story progresses as she gets more information, meets another obstacle, or other complications arise. She keeps at it though, she picks herself up and tries again and again, and her strength is admirable. Even when things seem impossible, and she's at her wits end, the girl doesn't stop.
I can't really go into too much more detail without spoiling the book. It has Chance's usual fast pace, array of strong, but humorous character, and a plot that'll keep you turning the pages into well into the night! If vampires, weres, fey, witches, mages, clairvoyants and demons are your thing, this is a series you definitely need to grab!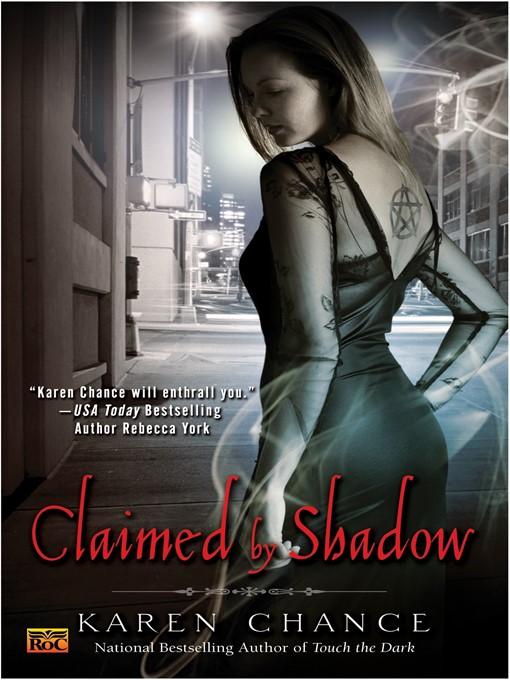 Claimed by Shadow by Karen Chance
WARNING: This is the second book in a series. I may spoil the first book while talking about this one. Read no further if you plan on reading Touch the Dark.
Cassandra Palmer would like a normal life, but now she is heir to the Pythia, the world's cheif clairvoyant, and has more power than she ever wanted. A power the Silver Circle and the Vampire Senate want control over. Unfortunately for her, this power has a mind of it's own, and it's wants the ritual that will make her finally Pythia completed, so it's doing all it can to make this happen, and some people have never looked so good to Cassie.
Then she finds out that Mircea had a geis on her, a magical spell which has now started to make itself known, acting like a big "keep off" sign to anyone who shows any interest.
If that wasn't enough, Myra, the original heir to the Pythia, is trying to screw up the timeline to get things to go her way. What's a girl to do when everyone wants to screw up your day?
This book was so much better than the first! No breaking up of the action now the world building is done and it runs a lot smoother. However, this girl sure as to deal with a huge amount! The whole book spans only two days, but Cassie finds herself in so many life threatening situations, it's mental! Normally, I don't like it when too much happens in a book as it feels like the book is jumping around too much, but it all flows rather well in this book.
It's very exciting and your sitting on the edge of your seat wondering whether things are going to go the way she wants, and wondering who she can trust, it's great. There's a passage that stood out for me:
Once upon a time, when I was a child reading fairy tales, I'd ached to have my own adventures. Not that I'd wanted to be some drippy heroine languishing in a tower, awaiting rescue. No, I'd wanted to be the knight charging into battle against overwhelming odds, or the plucky country lass who gets taken on as the apprentice to a great wizard. As I got older, I'd found out the hard way that adventures are rarely anything like the books say. Half the time you're scared out of your mind, and the rest you're bored and your feet hurt. I was beginning to believe that maybe I wasn't the adventurous type.
I really like that passage, it just struck a chord with me. You really get an idea of how she's feeling. It was such a great book, so exciting, I loved it!