0 Comments
Monday, June 3, 2013
| by
admin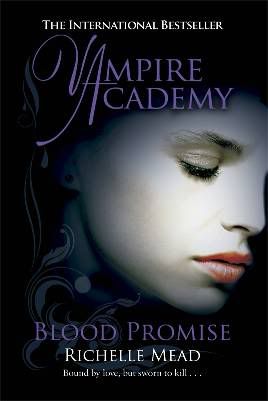 Blood Promise by Richelle Mead (review copy) - WARNING! This is the fourth book in a series. I cannot review this book without spoiling the first three, especially Shadow Kiss. Don't read any further if you plan on reading this series and don't want to be spoiled.
How far will Rose go to keep a promise? The recent Strigoi attack at St. Vladimir's Academy was the deadliest ever in the school's history, claiming the lives of many. Even worse, the Strigoi took some of their victims with them - including Dimitri. He'd rather die than be one of them, and now Rose must abandon her best friend, Lissa—the one she has sworn to protect no matter what—and keep the promise Dimitri begged her to make long ago. But with everything at stake, how can she possibly destroy the person she loves most? From Amazon UK
I cannot even begin to tell you just how brilliant this book was! There are so many reasons, and it was so different from what we've read so far in the series, and I could just gush forever, but this is a review so it needs some semblance of coherency.
I'll start with the differences. In all the other books, Rose and Lissa have been together, and if not at school – as is the case in Frostbite – they have always been with the students and the school authority figures. Not this time. Rose spends pretty much all of the book in Russia, away from school, away from anyone to reprimand her for breaking any rules – and there are no rules. She's out in the world on her own, with only her training and her own idea of what's sensible to guide her, and it's great to see Rose going about things as she wants and she sees fit. It's refreshing, but also worrying.
This doesn't mean we leave Lissa, Christian and Adrian behind. Rose does look in on Lissa through their bond several times throughout the book, and through it we follow the sub-plot at St. Vladimir's; there is a new head teacher, and with him comes two of his own children, Reed and Avery. And Lissa's erratic behaviour becomes increasingly more worrisome for her friends, for Rose, and for herself. It may seem convenient that we're able to get to this sub-plot through Rose and Lissa's bond, but there is always a reason for Rose to check up on Lissa, rather than just "oh, let's go see what Lissa's up to." It's very well done, and it's great to be able to keep up with both girls.
We meet a fair number of new characters in this book, and it's just awesome! We meet Sydney, and Alchemist, with Alchemists being a group of humans who know all about Moroi, Strigoi and Dhampirs, and has a unique way of "cleaning up" when guardians leave around dead Strigoi bodies. She's very off-ish at first, but I really liked her! She's very resourceful, and also opinionated about all the Vampire Academy races. I like how she's wary of Rose, and doesn't trust her. It's great to have a human's view and opinion. We also meet Dimitri's family in Siberia; Olena, Dimitri's mother; Karolina, Sonya, and Viktoria, Dimitri's sisters; Yeva, Dimitri's grandmother, and Paul, Dimitri's niece. They are everything you would have thought them to be, considering they're related to Dimitri; they're kind, they're caring, and they soon start thinking of Rose as one of their own. I love them! We meet the mysterious and slippery Abe, a non-royal Moroi with a lot of money, who just oozes untrustworthiness. We also meet Oksana, a Moroi, and Mark an ex-guardian, who are a bonded married couple. Oh, how we learn such wonderful things from them about Spirit, things that not even Adrian knows about. It's exciting and wonderful, and I look forward to how things will span out Spirit wise in the next book.
Finally we meet Dimitri-as-Strigoi – as I'm going to refer to him in this review. When I reviewed Shadow Kiss, someone commented on how they didn't like Dimitri based on what they see of him in Blood Promise. I still love Dimitri. Why? Because Dimitri-as-Strigoi is not the Dimitri we all love. He's gone, and as awful as it is, this person left is cold, uncaring and violent, and couldn't be any further from the Dimitri we know. It's not him, and so I can't hate Dimitri. What's also great about this book is that we get flashbacks of times with Dimitri we haven't yet seen. That may have taken place in the books with read, conversations that weren't important at the time, or in between books, and it's great to see these lovely, swet, soft moments between Rose and Dimitri, and see the love between them. It was beautiful.
Blood Promise is a very emotional book, and the time spent with Dimitri – the length of which I will not allude to, long or short – is just heart breaking. Not only do we see Dimitri-as-Strigoi and really dislike him and what's happened to the guy we knew, we also get to see Rose's reaction to him, and it's just so sad. There is also a fair amount of action too; most of the time, Rose is on her own and has no back-up, and she just goes to show her immense skill. It's just fantastic, and her strength to fight when she's so emotionally messed up is incredible.
The book ends on such a cliff-hanger, it's fantastic. It's the kind of cliff-hanger where it gives you an idea of what will happen in the next book, and I can't tell you how excited I am for Spirit Bound! It's going to be just brilliant! It will be even more action and more emotional, by the looks of it. I can't wait for it to be released on 18th May in the UK. Seriously, you need to read this series if you haven't yet started. You have no idea what you're missing out on.